Campus Life - Kamloops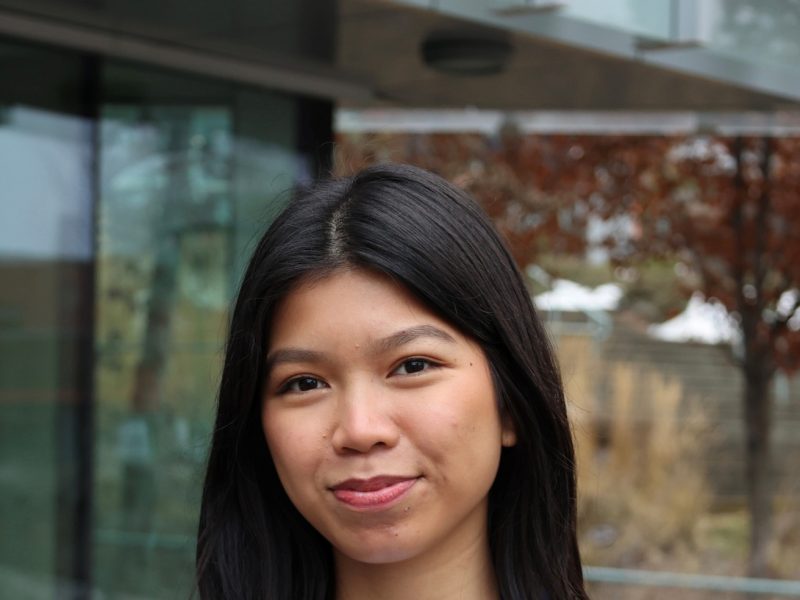 If she hadn't received any student awards, Bianca Aguinaldo's university experience might have been much different.
"The financial support and bursaries I received have allowed me to focus and excel in my classes. They also give me time to give back to the community by being a peer mentor to other students," says Aguinaldo, a fourth-year Bachelor of Business Administration student and a Bob Gaglardi School of Business and Economics student ambassador.
Aguinaldo has received several awards and bursaries at TRU, the most recent being the Grant Thornton Accounting Bursary. In addition to her academic pursuits, she serves as a Study Abroad ambassador and belongs to several university clubs. She is incredibly grateful for the support and hopes one day she can help others.
"In the future, if I am financially able to support post-secondary students, then I definitely will," she says. "I have first-hand experience of the priceless impact financial awards have on post-secondary students."
The positive impact of financial support on students is far reaching, but it can't happen without donors — and the more donors, the greater the impact. With that in mind, Kamloops philanthropist Norm Daley started an initiative to increase the number of scholarships and awards for students at TRU.
The Norm Daley Initiative invites 30 donors to contribute $35,000 each to establish their own endowed award at TRU. The initiative is nearly halfway to reaching its goal after launching last fall and has seen a number of locals come on board in support of students, but more donors are needed. With a fundraising goal of $1 million, this fund will open doors for TRU students and ensure they are supported for generations to come.
Locals join the Norm Daley Initiative
Lisa and Terry Lake recently joined the initiative, funding a new award: the Lake Family Social Responsibility Award, to go to an international business student enrolled in a full-time post-baccalaureate program.
"There are very few targeted international awards," says Lisa. "I think it's a really good time to celebrate what international students bring to the campus and the city and to try and lessen the burden a bit for a student."
The Lake family has a long history with TRU, dating back more than two decades when it was known as University College of the Cariboo. The family moved to Kamloops after Terry accepted a position as a sessional instructor and the next year, Lisa also began working at the university. Over the years, their roles changed several times, but their relationship to the institution and community beyond remained constant. Lisa is celebrating 25 years of employment at TRU this year, the last 15 with TRU Gaglardi. In December, she plans to retire and will say an emotional farewell to what has been a huge part of her life.
Terry and Lisa had already been discussing ways to help students at TRU when they heard about the Norm Daley Initiative. Contributing seemed like a great way to support a friend who regularly steps up in such a huge way for the city of Kamloops while also positively impacting the lives of TRU students.
"There's lots of ways of finding meaning in life, but one of them is helping others reach their goals," says Terry. "There was a time in the early days of international student development programs at TRU that many of these students were from wealthy families. That's changed. Many of the international students we see today come from hardworking families that don't have a lot of means. They're often the beacon of hope to their families and so I think there's nothing better than to be able to be part of that circle of support for young international students."
TRU alumni giving back
Another contributor to the initiative is TRU alum Rob Williamson, who has maintained his connection to the university since his days at UCC. He served on the alumni board for several years, acted as a career mentor and has regularly hired TRU graduates. Along with his family and business partners, Williamson created the LMG LoanLink Fintech Award, slated for third-year business or computer science students with financial need as one of the main criteria.
Williamson's LMG Finance partners, Mike MacPhee and Clayton Burkatsky, are also TRU alumni. He says they started the award to give back to students while bolstering the university's reputation.
"We're big fans of TRU graduates," he says, adding they currently have 19 alumni working with them. "I think Norm's idea of developing a goal to offer more financial assistance to students in the business faculty is fantastic. It aligns perfectly with what we are trying to do in terms of supporting the university as well as recognizing how we are beneficiaries of the university's talent and graduates."
Williamson says he benefited from financial aid as a young student-athlete and knows how much of an impact support can have on a student. More than just the financial boost, he says the mental encouragement it provides is incalculable. He encourages other alumni and TRU supporters to consider being part of the initiative.
"The idea was to get behind something that's bigger than us," he says. "It's about us wanting students to have better opportunities, enhancing TRU and definitely showing our gratitude. This initiative is here to help make the university the best it can be and the most accessible it can be."
To find out how you can contribute to the initiative, contact Alisa Coquet, executive director of development for TRU Gaglardi and TRU World, at [email protected].
"Receiving awards recognizes students' hard work and dedication," says Aguinaldo. "In my personal experience, it also motivates them further to pursue success, which one way or another, always has a positive impact on the world."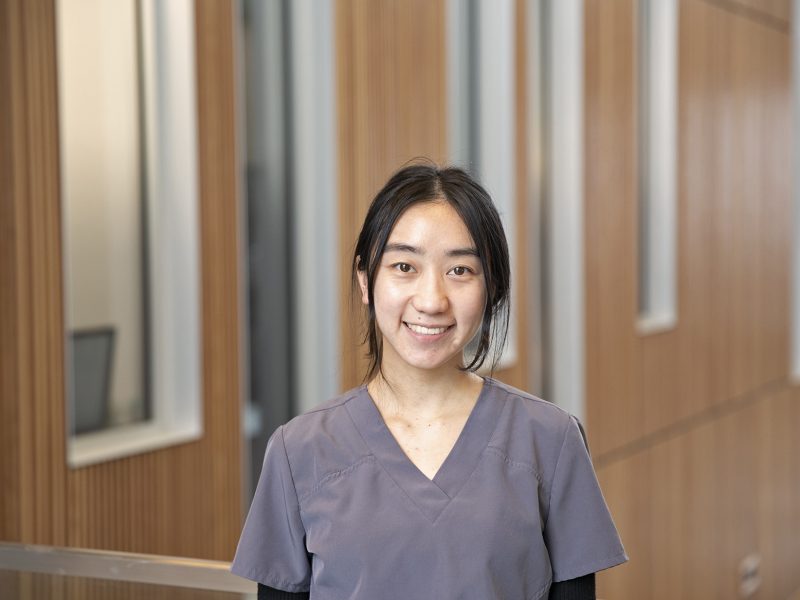 Sarah Buck always knew she'd end up in the medical sciences, but her passion for nursing and community-based research came into her life unexpectedly. So did the news that she was one of the first recipients of a new national scholarship encouraging diversity and equity in health care.
Buck is a second-year nursing student at Thompson Rivers University (TRU) and one of 19 recipients of the national fund, which provides scholarships to nursing students and researchers. The Tylenol Fund to Advance Diversity in Nursing and Health Equity Research for Black, Indigenous and People of Colour (BIPOC) is a result of a partnership between the Canadian Nurses Foundation (CNF) and Johnson & Johnson Inc, makers of Tylenol.
As an undergraduate, Buck received $3,000 toward her studies. She says the scholarship is motivating her to keep moving forward in her involvement with Hearts and Minds, a non-profit that designs and builds temporary, collapsible homeless shelters.    
A nursing perspective to address homelessness
While Buck wasn't required to be involved in research focused on equity in nursing and health care to receive funding at the baccalaureate level, she believes her role as lead researcher for the Kamloops-based Hearts and Minds non-profit is why she won the scholarship.
"The Hearts and Minds project is advancing diversity and equity in nursing," Buck says. "The innovative way we are building temporary homeless shelters has never been done before. We can collapse them and move them to another location if necessary and we are basing our architectural design on traditional roundhouses. They are being made to build a community."
Buck is excited at the potential of the Hearts and Minds project; she sees it as an opportunity to make a pioneering difference by helping people experiencing homelessness gain equitable access to health and shelter. She hopes the exposure gained through the scholarship will attract stakeholders and perhaps bolster funding for the project.
"There's definitely more awareness of inequity in health and the value of life among minority groups and scholarships like this really help," Buck says. "It gives students (who self-identify as a member of the BIPOC community) the opportunity to really focus on the determinants of health, which touches on every possible reason why one may not be able to achieve health and well-being opposed to another person.
"Recognizing, acknowledging and accepting these as fact is a real and tangible way for us to tackle health disparities. Scholarships that award those who are willing to contribute to change, sets a foundation for a more equitable future of health care."
A new world view of nursing
Buck always wanted to become involved in health care. She felt rewarded by helping others, it was ingrained in her from a young age. 
"I worked at soup kitchens with my family when I was younger," Buck says. "It always made me feel great to see how I could make a real impact." 
However, Buck didn't originally consider nursing as the career she would choose to change people's lives for the better.
Originally, she studied biochemistry at Western University, but after learning about the nursing program at TRU, she applied.  
"I didn't really know much about nursing," Buck says. "I had old world views of what nursing pertained not the new modernized version with all of the technology and the science behind it."
Once she began her education at TRU, Buck's view of nursing was forever changed.
Supporting excellence in nursing
"This place attracts some of the brightest students. I think the best part of the program here is the fact that it is so hands on and the simulations are second to none. The faculty here also really make a difference in student success and experience. They want you to learn and they are so personable. It's so helpful to have that support."
That faculty support spurred Buck to not only apply for the scholarship but also become involved in the Hearts and Minds project, working as lead researcher with a nursing perspective.
"As I move through this program, I have been gifted the opportunity to fully immerse myself in the world of nursing," Buck says.
"I truly appreciate the noble work that is carried out every day and the scientific critical thinking and reasoning that takes place with each patient. What continues to motivate me to become a nurse are the limitless opportunities available. There is so much room to grow and expand the field and it is a profession that is desperately needed globally."
With a Statistics Canada labour force survey from July 2022 indicating a 200 per cent increase in nursing jobs compared with five years ago, it is more imperative than ever that nursing students like Buck continue to be supported through their academic journey. The joint fund between CNF and Tylenol Canada does just that by investing in nursing excellence while building equity, diversity and inclusion within the nursing community and health care system, according to Christine R. Buckley, chief executive officer of the Canadian Nurses Foundation and a registered nurse herself.
In addition to the $3,000 that Buck received as an undergraduate, masters and PhD students accessed scholarships of $5,000 and $10,000 respectively.
For more information about the CNF scholarship program please visit cnf-fiic.ca/scholarships.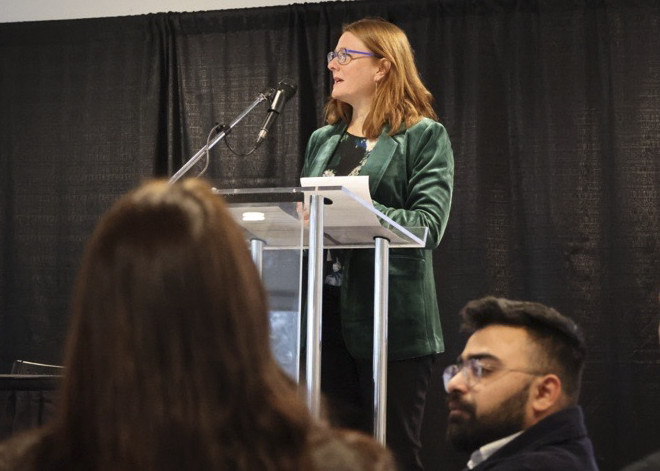 The Bob Gaglardi School of Business and Economics (Gaglardi) and Supply Chain Canada have signed an accreditation agreement that enables students who graduate with a BBA degree majoring in supply chain management or a post baccalaureate diploma in supply chain management to earn advanced standing toward the Supply Chain Management Professional (SCMP) designation, Canada's principal designation in supply chain. Graduates who achieve a grade of 70 per cent or higher in specific courses and have completed their program in the last five years are assured of advanced standing toward the SCMP designation.
There are three components required to earn the SCMP designation: education, a program exam and practical work experience. This agreement helps students meet the education component by reducing the number of courses they need to take after their program at TRU.
"For our students, this agreement is a big deal," said Dr. Nancy Southin, associate professor and chair of the Management, Information and Supply Chain department within TRU Gaglardi. "It saves them time and money, but also gives them a head start on earning an in-demand designation in an in-demand profession. Employers are increasingly asking for designations when hiring and people with designations earn more money."
According to Supply Chain Canada, employees with the SCMP designation earn an average of 22 per cent more annually than those without. That's an enticing prospect to anyone starting a career in the fast-growing field of supply chain. To meet demand, the TRU Gaglardi supply chain program recently hired three additional supply chain faculty members.
"I tell my students, supply chain is everything," said Southin. "We're not just talking about trucking, we're talking about many career opportunities — director of operations, procurement manager, director of logistics and more. Supply chain can take you anywhere. The future is bright for our students."
For more information on supply chain management and the SCMP designation, please visit tru.ca/gaglardi or supplychaincanada.com.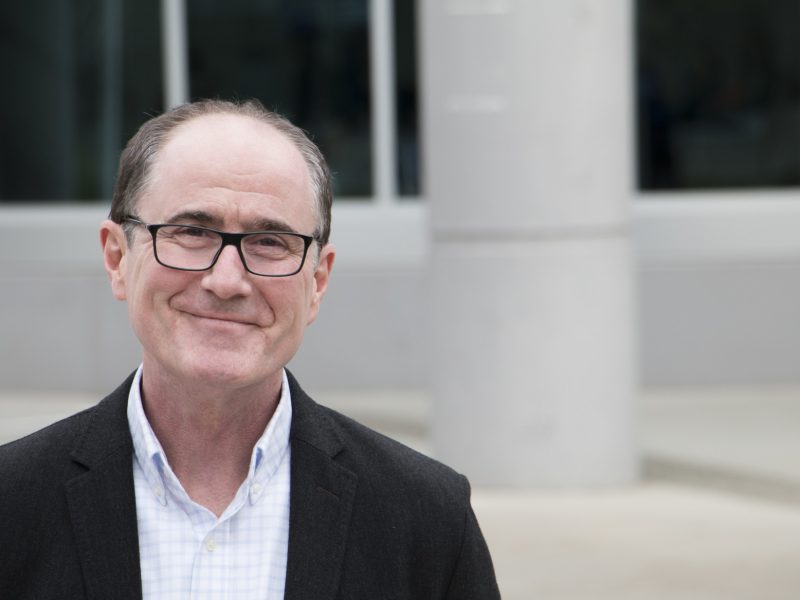 Can you imagine a world where business is guided by ethics rather than profit? A new generation of ethical organizations that provide goods and services offering social, environmental and commercial value for society rather than maximum shareholder profit?
Dr. Bruce Martin can. 
In fact, this very idea of next generational ethical organizations is the highlight of Martin's research. Martin, appointed a tripartite professor by Thompson Rivers University (TRU) in July 2021, shares his vision for future social enterprise at the Inaugural Professorial Lecture Series on Tuesday, Feb. 7.
"It is a pleasure and an honor to be part of this new lecture series," Martin says. "It demonstrates TRU's commitment to becoming a full-fledged research university."
TRU and Kamloops communities are encouraged to attend the lecture, which is part of a series providing an opportunity to meet professors and gain an understanding of their scholarship, research and teaching.
Martin, a professor in TRU's Bob Gaglardi School of Business and Economics, focuses his research on ethical organizing and organizations, ethical value creation and creation, design and scaling of social enterprises, among other areas. Most recently, his collaborative research has focused on social enterprise.
"Adopting social enterprise to fulfill our needs for goods and services will make dramatic improvements in social and environmental health," Martin says. "While this idea may be seen as moving forward, it actually takes us back to very early human social development, when the advent of business actually helped us to become more ethical."
His lecture on Tuesday, Feb. 7, is titled "Why every business should be a social enterprise: Bringing business back to society." Martin shares some of his latest collaborative research on the fast-growing business model of social enterprise. He hypothesizes that social enterprise has the potential to transform the meaning of business, from maximizing shareholder profits, to producing the goods and services individuals need in a way that enhances life for everyone and everything.
In-person seating is limited at the lecture in the Scratch Café in the Culinary Arts Centre from 4:30 to 6 p.m. Please sign up by Thursday, Feb. 2 if you would like to attend.
More Campus Life - Kamloops articles
The views expressed are strictly those of the author and not necessarily those of Castanet. Castanet presents its columns "as is" and does not warrant the contents.
Previous Stories