Campus Life - Kamloops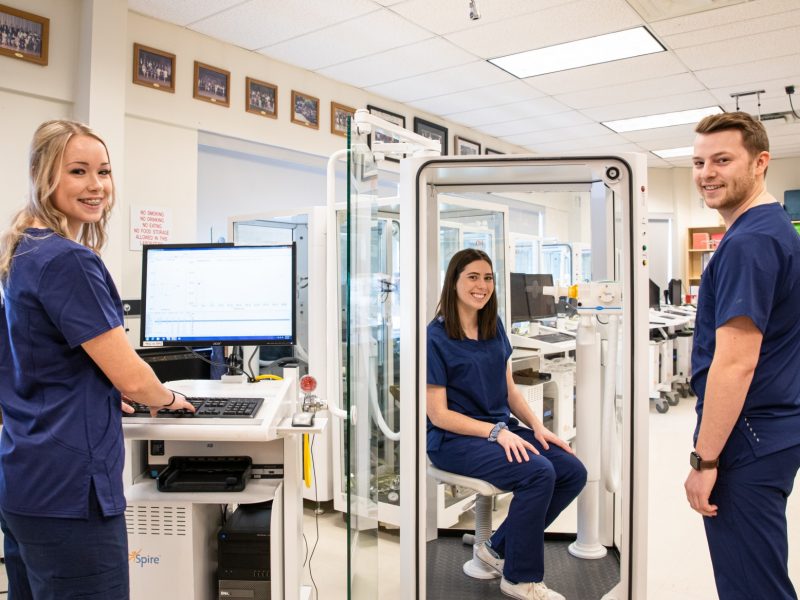 Health-care workers have always been unsung heroes, but the COVID-19 pandemic has put a new spotlight on the people who spend their lives saving others. TRU is fortunate to have alumni among these heroes—including nurses, health-care assistants and respiratory therapists. Their expertise is more important than ever.
While the Nursing and Population Health building at TRU will be outfitted with improved simulation technology for training frontline workers, future respiratory therapists (RTs) have also received upgraded diagnostic equipment.
Recently, Peak Medical Group provided TRU with nine pulmonary-function stations that conduct respiratory testing to diagnose chronic lung conditions such as chronic obstructive pulmonary disease (often known as COPD) or asthma. Equipping learning spaces with state-of-the-art technology is one of the priorities of TRU's Limitless campaign to raise $50 million coinciding with the university's 50th anniversary this year. (Science students are also benefitting from improved lab space thanks to a donation.)
TRU alum Robert Biddlecombe is senior project manager with Peak Medical Group and initiated the donation after slight changes to Alberta's testing requirements last year put the equipment out of commission in that province.
"We hated to think the machines were going to stay at the back of a warehouse and we thought of Thompson Rivers University," he said. "This is equipment that's being used in hospitals in BC right now. It was a great opportunity to upgrade their fleet so students can use equipment that's being used on patients in the hospital."
The pulmonary stations allow respiratory therapists to measure how well a patient's lungs take in and release air, how well they move gases into the body's circulation and whether treatment will work. Purchasing the equipment new would have cost the university upwards of $600,000.
"We rely heavily on donations from companies that usually have our graduates working for them—and that's very helpful for us," said RT program chair Mike Lemphers. "With the small amount of money that's available for capital equipment, we just wouldn't be able to do it."
This is a cool job
Students learn key concepts and practice in a controlled lab environment before they work on real patients. This preparation is essential, students say. Tyson Edwards was a paramedic before making a career change to respiratory therapy, but not all students have previous health-care experience. Being ready for the hospital environment is important because respiratory therapists are relied on.
"If an RT shows up, everybody just calms down," Edwards said. "They're looked to for advice."
Edwards didn't know RTs existed until he worked as a paramedic. Another TRU student, Tiaura-Lee Jenkins agreed they fly under the radar.
"I didn't know this was even a career and when I learned about it, it seemed so interesting. The past three years in this program have just solidified how passionate I am about this and how cool our job is," Jenkins said.
"I've heard people say RTs are the problem solvers of the team. That's why it's important for us to know the equipment, because we are looked up to as knowing how to troubleshoot."
TRU is the only university in BC with a respiratory therapy program. The largest hospitals in the province employ about 150 respiratory therapists and TRU takes 80 students into the program each year to keep up with the needs of employers.
For more on Limitless, visit tru.ca/limitless.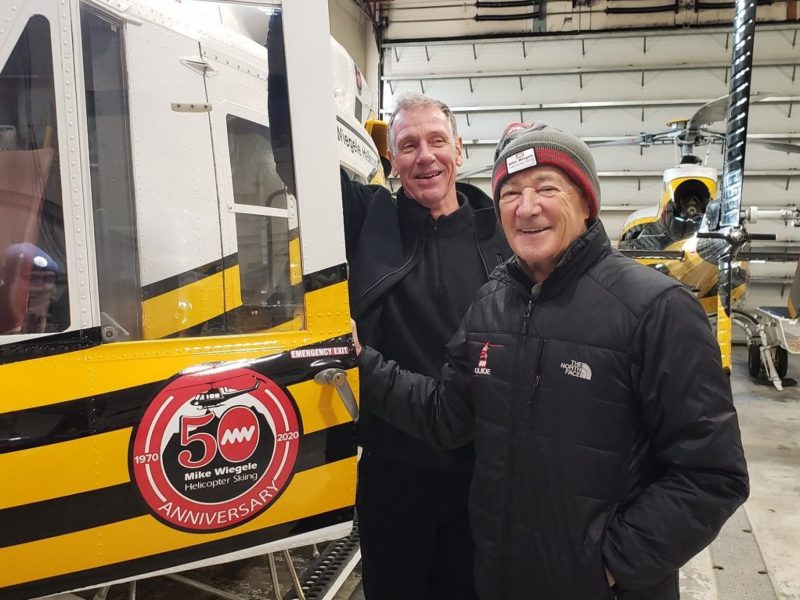 What does it take to build a world-class business? Students can learn a lot from Mike Wiegele's 50-year adventure in the mountains—and he's making sure if students have a passion for the industry they get their chance.
The founder of Mike Wiegele Helicopter Skiing has donated $50,000 to fund 14 awards for students in the Faculty of Adventure, Culinary Arts and Tourism. The donation contributes to TRU's Limitless Campaign to raise $50 million, which coincides with TRU's 50th anniversary this year.
This is also the 50th anniversary season of Wiegele's legendary heli-ski operation in Blue River, BC. Wiegele continues to fuel the tourism economy by working with TRU to create new opportunities for students—especially those who call the North Thompson home.
"I believe the future of the North Thompson Valley is tourism," he said. "It's important to reach younger generations and to make education available to those who will enhance the future of tourism. Now, we want the whole valley to benefit from what has been built here over the last 50 years."
The new awards include:
Two $8,000 scholarships for students from the Simpcw First Nation
Four $2,000 entrance awards for students from the North Thompson
Four $2,000 scholarships for students from the North Thompson
Two $4,000 Adventure Studies scholarships
Two $4,000 Adventure Studies leadership awards
The final $2,000 goes toward new avalanche training equipment for the Adventure Studies program. Beyond providing new opportunities for financial aid, these awards will give students a point of connection to Mike Wiegele Helicopter Skiing, said Douglas Booth, Dean of Adventure, Culinary Arts and Tourism.
"Through connections like this, TRU helps students find their way in the world while also assisting local tourism operators," Booth said.
To learn more about Limitless, go to tru.ca/limitless.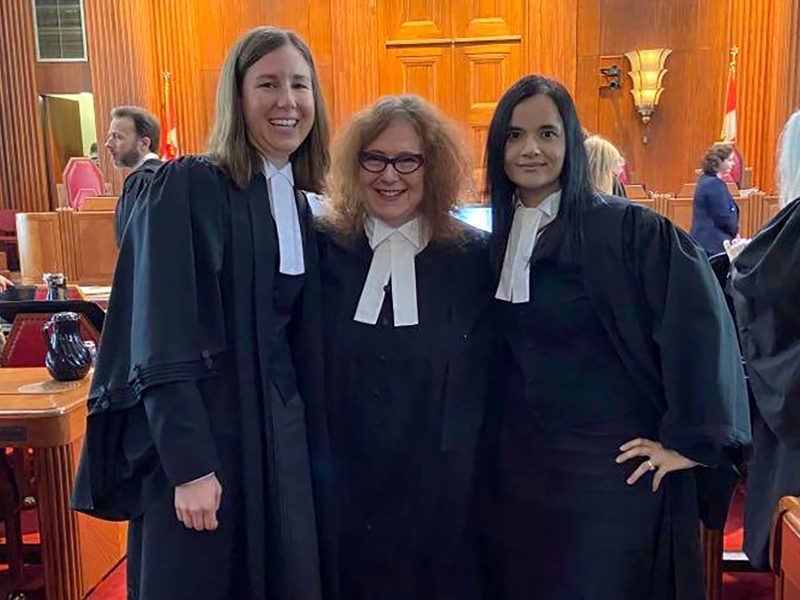 Last month, Dr. Ruby Dhand appeared in the Supreme Court of Canada as part of a legal team on behalf of the Empowerment Council, presenting a Charter challenge in mental health law — a challenge she described as equivalent to the "legal Superbowl."
The Associate Professor in TRU's Faculty of Law is an expert in mental health law and has long advocated for a mental health court in Kamloops, but last week she stood before the Supreme Court of Canada as part of the legal team led by Anita Szigeti, one of Canada's leading experts in mental health law. 
The Challenge
The team challenged the unilateral application of Christopher's Law— otherwise known as Ontario's Sex Offender Registry in Ontario (AG) v G — as it applies to those who have been found not criminally responsible for a crime involving a sexual offence. The Empowerment Council are systemic advocates, who are also people with mental health and addictions histories, and the legal team highlighted for the court how Christopher's Law discriminates and harms members of this vulnerable community.
Currently, all those who commit a sexual offence must be included on the sex offender registry, which also applies to those who are found not criminally responsible.
"However, individuals who are convicted have an opportunity to be removed from the registry, but those same types of exit ramps are not available to people with mental health and addictions found not criminally responsible," explained Dhand. Without this chance, people with mental health and addictions issues experience discrimination according to Section 15 of the Canadian Charter of Rights and Freedoms.
"There should be an option of escaping that label, because when you are really working on your road to recovery, wearing this label impedes your ability to do so."
Not Criminally Responsible
Being found not criminally responsible legally means that you have been cleared from committing a crime, and by definition means that in the commission of an offence, the offender had no idea what they were doing, or that what they were doing was wrong.
"The law has built this special stream of 'not criminally responsible', for these clients to get well and to get back into society," explained Dhand, who added that many of these clients undergo years of treatment, during which time their risk to the public is reassessed on an ongoing basis.
Once an expert tribunal has determined that they can be reintegrated, and that they no longer pose a threat to the public, they should be free. But carrying the sex offender label ensures that the stigma remains.
"What is the point of working toward absolute discharge and working toward recovery when they still carry this label," Dhand asked.
Presenting this challenge under section 15 of the Canadian Charter of Rights and Freedoms at the Supreme Court of Canada was "life-changing," says Dhand.
"We are very hopeful this case will result in systemic and transformative change for people with mental health issues and addictions."
More information
Dr. Ruby Dhand, Associate Professor
778-471-8457
[email protected]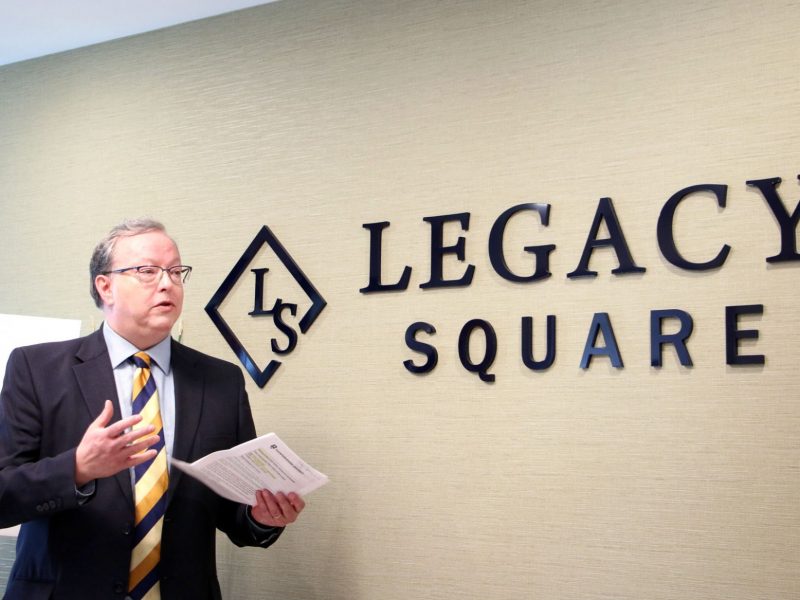 Thompson Rivers University President Brett Fairbairn joined other dignitaries Friday for the official grand opening of Legacy Square, the first residential project to be complete through The Reach.
"It's wonderful to see our vision of a university neighbourhood take shape with the completion of Legacy Square and other buildings underway," said Fairbairn. "Universities are part of the surrounding communities, and having many people living on campus, not only current students, makes that connection and makes the campus an even more lively and interesting place."
Legacy Square, developed by the Kelson Group, is a 77-suite rental building situated on the university's Kamloops campus and is one of four projects announced by the TRU Community Trust (TRUCT) since 2017. Established in 2011, the trust oversees development of university property not designated for academic purposes.
"Legacy Square is only the first building to be completed within the Reach neighbourhood," said TRUCT President Jennifer Stites. "Over the next 20 years, The Reach is expected to become home to 3,500 residential units, complete with restaurants, offices, retail and commercial space. A destination for the broader Kamloops community to visit and enjoy."
In addition to transforming the university into a place where people can live year-round, The Reach provides TRU with funds that will directly support students and research for years to come. These funds are endowed, meaning they will generate funds in perpetuity for the university.
During the official grand opening, Fairbairn noted that as of this year, TRU is beginning to see the first fruits of The Reach with $31,000 in bursaries and scholarships distributed to students in need by the end of March, and $40,000 marked for research. These amounts are anticipated to more than double within a few years as endowment funds grow.
In addition to opening Legacy Square, Kelson Group announced the development's "sister" apartment building—Liberty Pointe—a five-storey, 42-suite multi-family development already under construction at TRU just a few hundred metres away.
More Campus Life - Kamloops articles
The views expressed are strictly those of the author and not necessarily those of Castanet. Castanet presents its columns "as is" and does not warrant the contents.
Previous Stories