Campus Life - Kamloops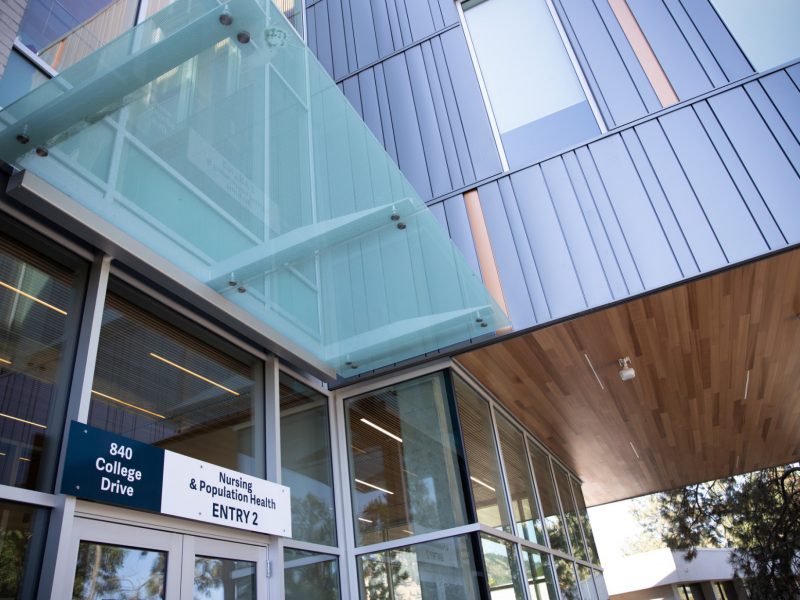 A team of researchers at six BC universities are the proud recipients of the Canadian Institutes of Health Research (CIHR) grant, sharing $683,000 in funding for their Reclaiming and Recovering Indigenous Knowledge in Graduate Nursing Education project.
Led by Thompson Rivers University (TRU) Associate Professor Dr. Lisa Bourque Bearskin and UBC Okanagan (UBCO) Associate Professor Dr. Donna Kurtz, the team will conduct intergenerational learning with communities to reclaim and recover Indigenous knowledge in graduate nursing education.
Indigenous-focused experience
Project research aims to identify learning processes and outcomes of an Indigenous-focused education, training and mentorship experience. Funding allows the team to integrate local Indigenous knowledge of wellness with a cohort of graduate nursing students at six BC universities – UBCO, UBC (Vancouver), TRU, University of Victoria, University of Northern BC and Trinity Western University – by promoting culturally safe, gender-relevant pathways to advance education and practice of Indigenous health nursing.
"The provision of culturally safe and appropriate care is a priority for the First Nations Health Authority (FNHA)," says Chief Nursing Officer Dr. Becky Palmer. "It is critical that FNHA be engaged in enhancing cultural humility through incorporating Indigenous knowledge in nursing as well as building capacity for Indigenous clinicians and health-care practitioners."
The research team will work with graduate students to explore education, research and mentorship in Indigenous health that best supports their development as nursing leaders. They will then develop, monitor and evaluate curriculum, experiential learning and Indigenous community placement opportunities offered in the program. The cohort of students, community mentors and faculty will create the program and provide intergenerational mentorship to nurses in their communities and to students in their institutions School of Nursing.
UBCO School of Nursing Acting Director Jackie Denison believes students will benefit from this much-needed research.
"This important project will provide an opportunity for a truly Indigenous focused education program, which will enhance the navigation of graduate studies for Indigenous nurses. Students will experience a strength-based indigenized curriculum, learning from communities across the Province of British Columbia. This educational program is pivotal in transforming nursing practice and nursing knowledge."
For TRU School of Nursing Dean Dr. Rani H. Srivastava, funding for this project comes at a critical time.
"The grant will provide valuable support in working with Indigenous community leaders and graduate students to support the development of Indigenous nurse leaders who are urgently needed in the profession and the health-care system."
Addressing Indigenous-specific racism
Trinity Western University Dean of Nursing Dr. Sheryl Reimer-Kirkham and School of Nursing Master of Science Director Dr. Barbara Astle describe this study as a collective response to answering the call.
"Reconciliation in Canada must occur in and through all of our institutions, including higher education and health services, which this initiative brings together. At a time of a global nursing shortage that cannot be addressed without preparing nurses at advanced master's level, it is critical that all graduate nursing programs incorporate Indigenous knowledge and support Indigenous nurses. The graduate nursing initiative also builds capacity for the new BC Practice Standard on Indigenous Cultural Safety, Cultural Humility and Anti-racism."
UBC School of Nursing Associate Professor Dr. Leanne Currie echoes the significance of this work.
"This is a program that, from the beginning, values and centres Indigenous ways of knowing and Indigenous knowledge. This collaborative project will expand the network of support for Indigenous students, faculty and staff, taking the weight of leading transformation off of the shoulders of individuals by harnessing the power of collective action."
Engaging for change
"Our partners are very excited to establish this collaborative and innovative approach and to focus on enhancing training and developing curriculum to address anti-Indigenous racism," says Bourque Bearskin, who recognizes the opportunities the award presents.
"Funding will enable us to advance an improved understanding of the barriers and facilitators to implementing and integrating Indigenous knowledge systems in graduate nursing education. In addition, the formation of a multi-site community-university partnership with clearly articulated guidelines, priorities and decision-making processes creates a pathway to inform systems changes in Indigenous health.
"Further, results from this study will inform education and policy reform to increase the recruitment and retention of Indigenous nurses. This research will contribute to the program's ongoing development and knowledge translation from Indigenous nursing education to other institutions."
Moving forward
University of Victoria PhD graduate student Leanne Kelly acknowledges the benefits an Indigenous-focused graduate program will provide.
"Nurses who are currently working with First Nations communities are developing substantial insight about Indigenous knowledge, equity issues and strength-based approaches to addressing health challenges. The creation of a graduate program that foregrounds the opportunity to articulate this learning would open up a whole lane of nursing discourse that needs greater visibility. Imagine the voices that could heard!"
Dr. Shelly Johnson, Canada Research Chair in Indigenizing Higher Education at TRU, recognizes the importance of the grant.
"For far too long, mainstream Western graduate nursing education acted to deliberately ignore Indigenous knowledge contributions. This biased stance weakened potential Indigenous contributions to collectively strengthen nursing education competencies and work towards patient well-being. This grant has the potential to meaningfully address this shortfall in ways to strengthen health outcomes for Indigenous and non-Indigenous peoples."
UNBC School of Nursing Interim Chair Dr. Caroline Sanders explains the importance of collaborative work.
"In sharing this work, working in collaboration is vital in rural contexts in supporting an equity and inclusive approach to Indigenous scholarship. Here we will work with community leaders to advance Indigenous nursing education that is distinct to the location where we teach and learn."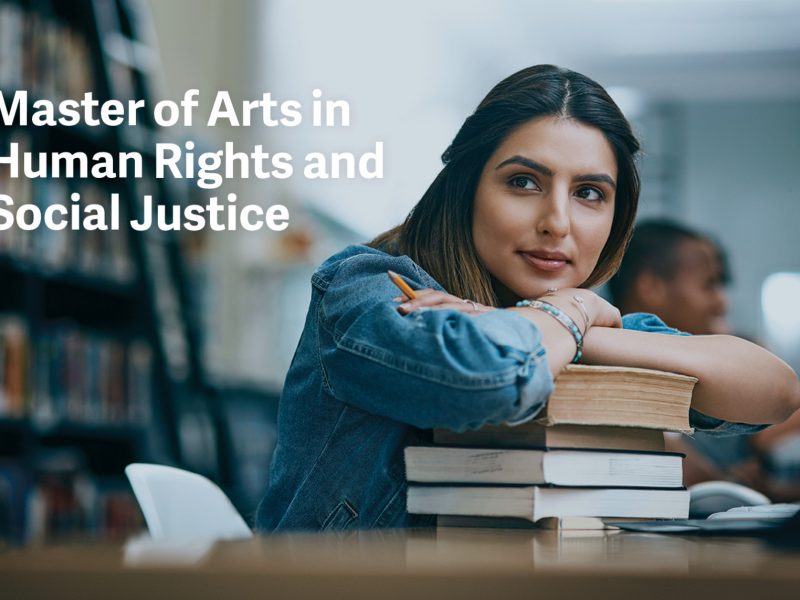 When Rick McCutcheon arrived at TRU four years ago as the new dean of arts, he surveyed faculty members about program needs. Based on those conversations, three months later, he had a concept paper written for a Master of Arts in Human Rights and Social Justice program.
Creating a new academic program takes time and numerous reviews before government approval. Three and a half years after McCutcheon first drafted his paper for the provost, the Master of Arts in Human Rights and Social Justice is a reality. The first cohort of up to 30 students begins this fall.
"That's pretty fast. It shows how well received it was by internal bodies and external reviewers across the country who were involved," he says.
The 16-month program, which is unique in that it marries social justice and human rights rather than teaching them separately, includes four core courses that include Indigenous ways of knowing and a requirement to do hands-on field study work.
"This is the only program of this form in Western Canada that has this kind of blending of human rights and social justice, so students come out with a well-rounded master's degree. We see this as very unique in BC and in Canada," McCutcheon says.
Students will examine such issues as homelessness, truth and reconciliation, poverty, climate change, conflict resolution and war. Graduates will come out prepared to work for non-government organizations, a range of civil-service units in government, businesses that practice corporate social responsibility and a host of other organizations, he said. This program will also prepare students for further studies at the doctoral level if that is their path.
"It's a program for practical people who want to make a difference in the world. It's a program that focuses on providing real skills to help people understand complex issues in the real world," says McCutcheon.
"This new program is a natural for TRU, as it aligns perfectly with our vision and mission and what kind of institution we want to be. A program like this intends to make differences in people's lives," says TRU President Brett Fairbairn.
"TRU is the kind of post-secondary institution that envisions having social impact, and I am certain the first class of graduates from this program, as well as all who will follow in the years to come, will make our communities and our world better. I am proud to see TRU leading the way with this kind of program."
Collaborating with the city
McCutcheon says the program will benefit the city of Kamloops as students engage with the field experience part of the program, which will often take place in the city.
"This is a timely graduate program for this institution and for the city. The relationships between Indigenous and non-Indigenous people, for example, needs to be addressed in the context of the discovery of undocumented graves and the Truth and Reconciliation Commission calls to action. With the environmental crisis—the wildfires and flooding—clearly this is going to raise a lot of justice issues. People are affected differently by flooding; if you're wealthy, there's one experience; if you're not, there's another," he says.
Students choose one of four ways to complete their degrees: course based, thesis based, project based or through a creative expression pathway that can involve film, documentary or other forms of fine arts.
"The timeliness of this is very important for this kind of program. It will have a dramatic impact on campus to have us constantly thinking about these issues. By encouraging inquiry into the connections between human rights and social justice at the local and regional level, this new graduate program also will have a positive impact on our community."
"By introducing a justice and community focused program, it's clear that TRU is focused on engaging graduate students in social issues and Indigenous ways of knowing, with on-the-ground real-life impacts," says Anne Kang, Minister of Advanced Education and Skills Training. "I'd like to acknowledge the good work by TRU for moving forward with opportunities for students to share their knowledge in helping create communities that are culturally safe."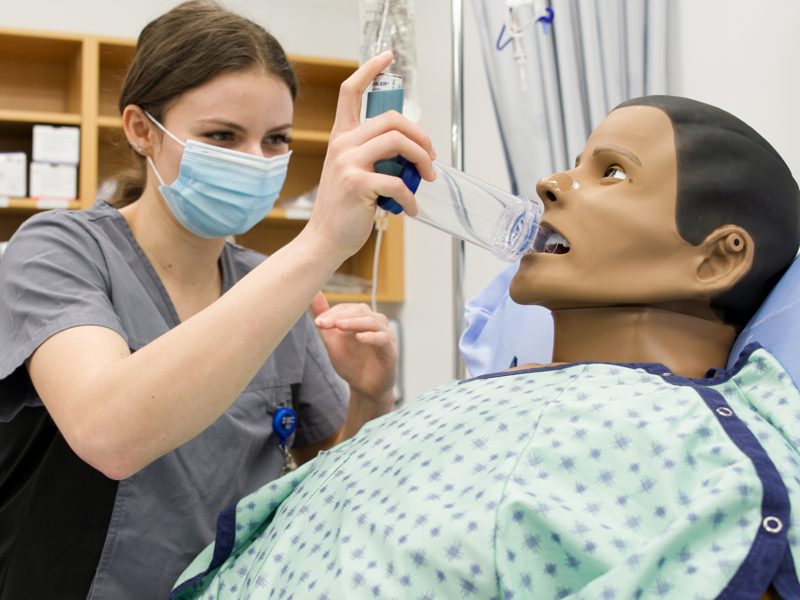 TRU's new Sherman Jen Simulation Centre creates an environment to better prepare Bachelor of Science in Nursing students to enter a real clinical setting.
The patient simulation labs opened in September 2020 and are equipped with computerized manikins and technology that replicates hospitals and laboratories. The labs are an innovative, cohesive learning space that improves the quality of students' education.
"Computerized manikins — they are the difference. When you look at how we taught students before, we taught them theory, then we taught skills and then we'd take them to the hospital and get them to put everything together. We still teach all the theory and skills, but now they can do it over and over again so that the practice becomes muscle memory. They're not trying to put it together in a hospital, they're already able to do it. It makes a huge difference," says Wendy McKenzie, senior lecturer.
"When we're doing simulations, it's really a non-stressful time with no pressure. You're in a small group with an instructor, and you can take time to think it through. It kind of gives you those skills before you even go into a hospital setting or a clinical setting," says nursing student Christine Skirrow.
Interprofessional simulation training
The World Health Organization notes that interprofessional education opportunities such as the simulation training at TRU allows health-care professionals to learn about, from and with each other to enhance collaboration and improve health outcomes.
So while the simulation technology is primarily used for training frontline workers, respiratory therapist (RT) students have also received upgraded diagnostic equipment. Nine pulmonary-function stations allow them to measure how well a patient's lungs take in and release air, how well they move gases into the body's circulation and whether treatment will work.
Earlier this year, RT and nursing students participated in a successful pilot project for an interprofessional simulation training session. This interprofessional approach to education models more closely what students will experience in a real clinical setting, where health-care staff work across disciplines or specialties.
The key advantage of learning with computerized manikins or simulators is that they can often reproduce physiological responses that otherwise can't be replicated. They can add to the realism of a situation and play a role in creating a safe environment where students can learn and patients are not at risk.
While computerized manikins have limitations, there is growing evidence that the use of simulation technology enhances the learning experience by increasing student confidence, knowledge and skill.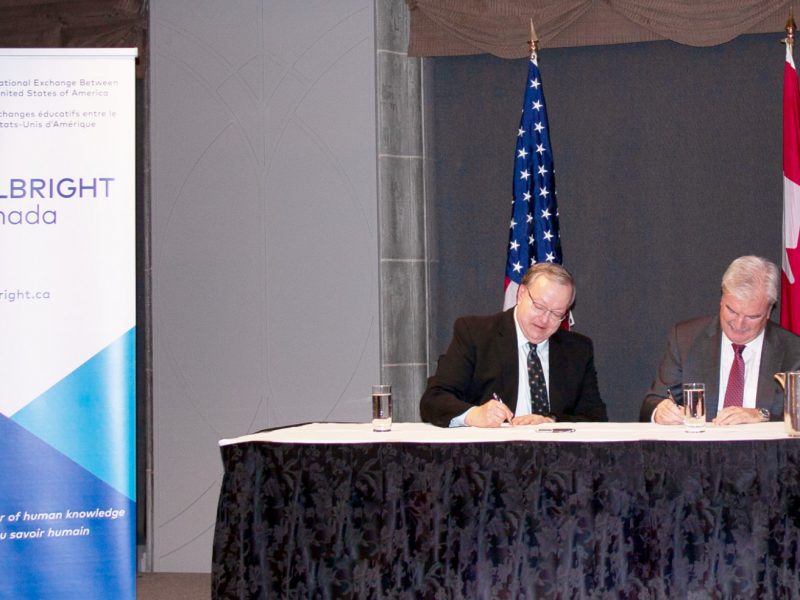 TRU President Brett Fairbairn and Vice-President Research (Interim) Will Garrett-Petts have signed a memorandum of understanding with Fulbright Canada, a not-for-profit educational exchange program committed to collaboration and academic excellence between the US and Canada.
The five-year agreement, which comes as TRU launches its new Strategic Research Plan, was endorsed by Fulbright Canada and TRU at a ceremony celebrating the Fulbright Program's 30 years in Canada (delayed due to COVID-19).
Fairbairn said the partnership with Fulbright Canada allows TRU to further develop its expertise in fire and land management, something that will prove beneficial to Interior communities and the provincial fire service as the threat of summer wildfires increases with climate change.
"Fulbright scholars are the best in their fields. Creating this opportunity at TRU will bring a new level of capacity and capability to a crucially important field of research. This new chair will enable TRU to explore better ways of preventing devastating wildfires, among other things," he says.
"This is an extremely valuable addition to TRU's research portfolio, and I am grateful to the Fulbright team for working with us to make this happen."
First chair will be Indigenous
Each year, under the terms of the agreement, TRU will host a leading US scholar to work with TRU faculty and students in a research area important to the university and to the communities it serves.
The inaugural chair, to be appointed in 2023, will be an Indigenous scholar recruited to support TRU's world-class research in wildfire management, climate change and Indigenous land-use practices. They will work with TRU faculty and community research partners to study various aspects of fire science, community resilience and Indigenous land management.
Garrett-Petts says the Fulbright Canada visiting chair position will enhance TRU's research capacity in areas of existing strength.
"Thompson Rivers University is both pleased and proud to partner with Fulbright Canada on the establishment of this chair—and as vice-president of research, I'm especially pleased to see the chair well aligned with our commitment to Indigenous research and the goals of indigenization. Our first chair will address the impacts of climate change and be an Indigenous scholar in land management and fire science," he said.
"This is a new relationship for Fulbright Canada and we are very excited. Thompson Rivers University serves students from across the country and around the world, and it is an institution absolutely committed to promoting, supporting and encouraging Indigenous persons. We look forward to a long and supportive relationship," said Fulbright Canada President and Chief Executive Officer Dr. Michael K. Hawes.
More Campus Life - Kamloops articles
The views expressed are strictly those of the author and not necessarily those of Castanet. Castanet presents its columns "as is" and does not warrant the contents.
Previous Stories