(via Eric Thompson)
Better together than they are apart?
That certainly appears to be the case for brothers Quinn and Jack Hughes, who are playing their first real competitive hockey together this week and look like they've been doing it for their entire lifetimes. Apart, Quinn played his way to becoming a seventh overall pick for the Canucks this year, while Jack finds his name at the top of most scouting rankings for next year's draft.
Together, the duo connected on a game-winning goal in USA White's 7-5 win over Canada Red, to help the States complete the split-squad sweep over Canada. Jack collected the puck after Calen Addison bobbled it and fed Quinn near the bottom of the right circle, who potted the winner with just over two minutes left.
"He's a smart player. I'd like to call myself a smart player, too, so usually when that happens it could be with Jack, it could be with anyone; when you've got playmakers out there, they want to make plays," says Quinn. "He's a very smart player, so I kind of knew that puck was coming to me and that's why I dashed in."
It's understandable that Addison would have been looking over his shoulder with a Hughes brother bearing down on him. The two also came after him at the end of the second period. Quinn gave him a hard slash and Jack jumped in to help, setting off a skirmish between the teams that resulted in 14 minutes in penalties being handed out.
"It's USA-Canada. I don't think I have to get into it that much," says Quinn.
"I wasn't surprised. The only thing I was surprised about was that I was in the middle of it. It usually doesn't go that way."
Canada ended up with a man advantage after the dust-up and that allowed them to get back into the game, after entering the third period trailing 5-3. Another Canucks prospect, Canada Red goalie Michael DiPietro, got chased from the net in the second period after allowing five goals on 18 shots, including two well-placed lasers from USA White's player of the game, Joel Farabee.
"I liked our finish," says Team USA head coach Mike Hastings. "At this time of year, when you've had limited time for things away from the puck, a lot of guys are focusing on what's happening at the puck, so I liked the way we finished. We've got to keep taking steps in the right direction."
Much like the weather outside, it was a heated affair, that had a total of 30 penalty minutes handed out.
"When Canada and the US play, there's always a little bit of fire between those two teams," says Antoine Morand. "We just had to protect each other and stand up for our brothers."
Isaac Ratcliffe, Noah Dobson, Nick Suzuki, Ian Mitchell and Morand had goals for Canada Red while Ivan Lodina, Jason Robertson, Jack Drury and Oliver Wahlstrom also scored for USA White.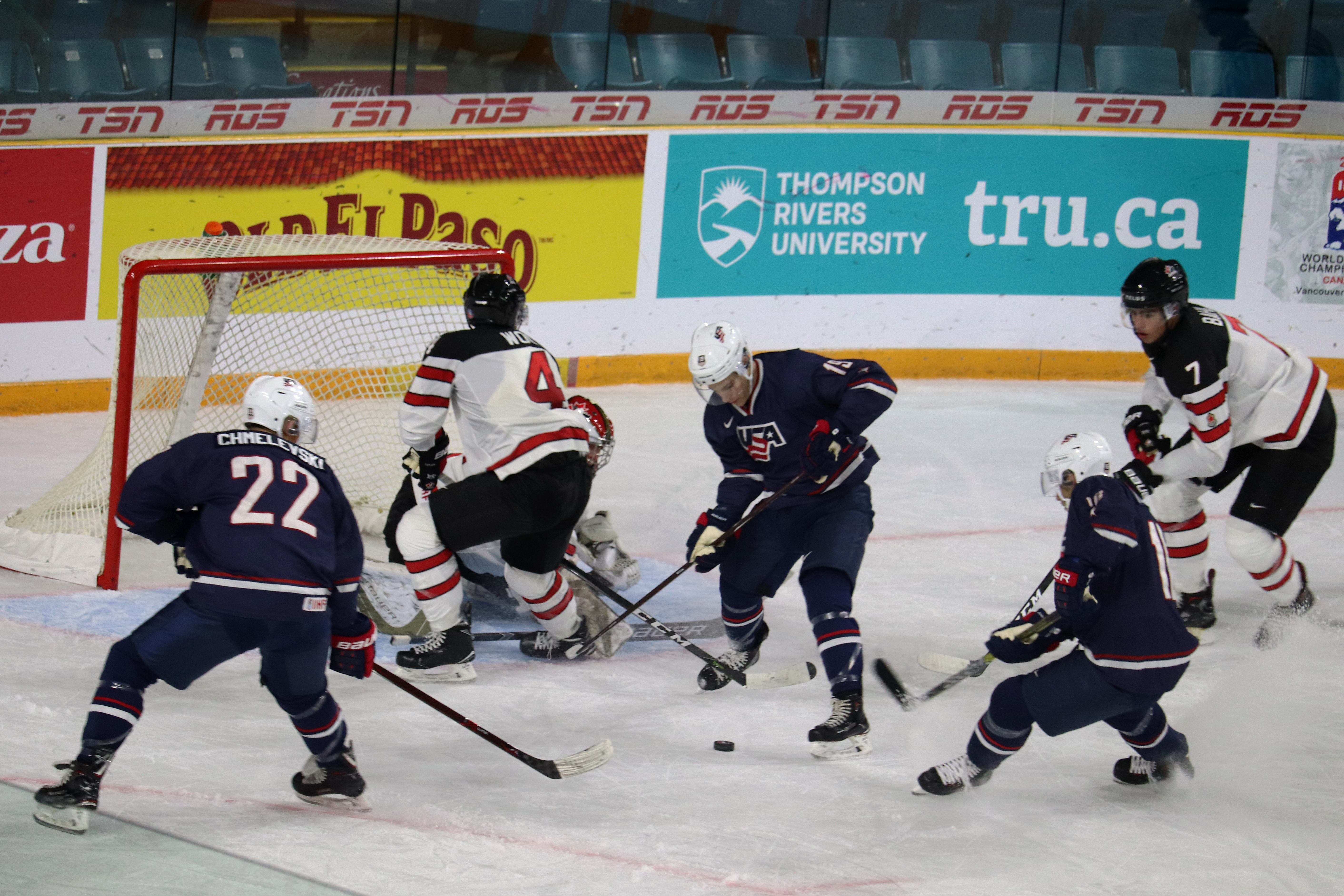 Better together than they are apart?
Canadian fans hope that's the case for their side, as a division of top-end talent saw them lose a pair of close games on Tuesday (July 31) after USA Blue beat Canada White 3-2 in earlier action.
Much like Hastings pointed out, USA's finish was just better in this game as Sascha Chmelveski scored a pair of goals, including the game-winner, while goalie Kyle Keyser made 23 saves in the win.
"Good evaluation for the first game from that group. Great effort, it's summer hockey," says Team Canada head coach Tim Hunter. "A couple practices and playing games is really tough on these guys."
Cody Glass was named player of the game for Canada White, thanks to his game-tying power-play goal that came midway through the third. Canada went one of five with the man advantage on the night, but had opportunities to do more damage. Shane Bowers, MacKenzie Entwistle and Canucks prospect Jett Woo all missed great opportunities at goals.
Logan Hutsko had the other goal for USA Blue while Barrett Hayton had Canada White's other marker.
Olivier Rodrigue and Matthew Welsh split time in this game as well. Welsh finished the day as Canada's top goalie, allowing just one goal on 14 shots.
For the first game action for Canadian players in months, they left with a lot of positives for both squads.
"Our speed was really good. We were good in transition. They took a lead and we stayed strong and came back," says Morand. "There are a couple things to clean up in the d-zone and also in tracking, and we'll work on that and get better."
That could be the last game action for some Canadian players, as the team will only have one roster for the remainder of the week. But Canada will get a shot at redemption against the Hughes boys and Team USA, when they close out the showcase against them on Saturday, Aug. 4 at 2 p.m.